22-Aug-2022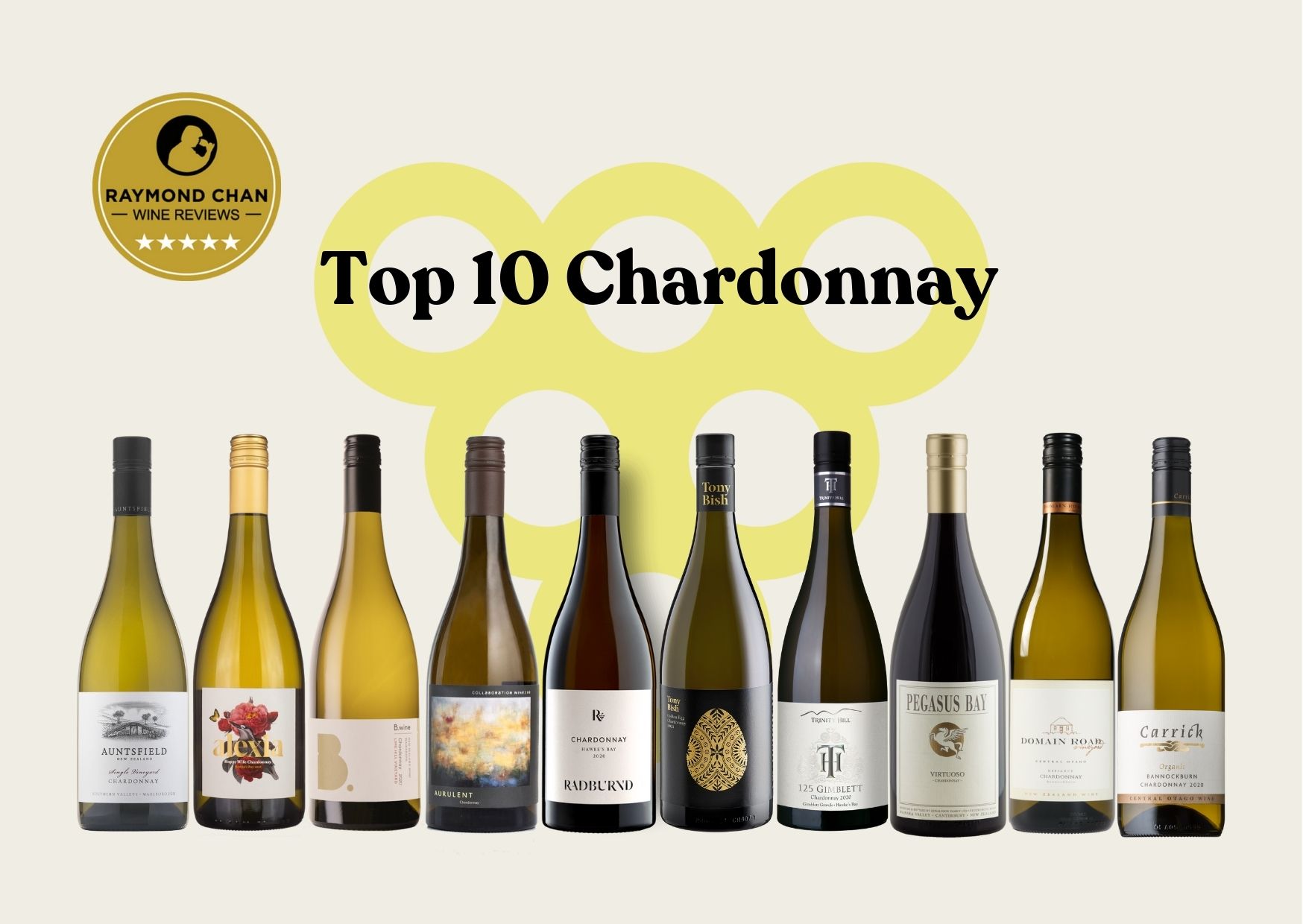 2nd September/ Wellington tasting event ticket link: https://www.eventbrite.co.nz/e/394848280837
19th September/ Auckland tasting event ticket link: https://www.eventbrite.co.nz/e/394856976847
I am very excited to announce the Top 10 Chardonnay this year; the calibre is exceptionally high this year, with nine out of ten Chardonnays scoring 19- points and above. These top-quality Chardonnays are from many different regions of New Zealand, including two from Central Otago, one from North Canterbury, one from Marlborough, one from Martinborough and five from Hawke's Bay.
Chardonnay is the second most planted white variety in NZ, with 3,187 hectares planted, accounting for 6% of the country's production. A wide range of styles are produced, and good quality Chardonnay can be found in every region of NZ. Winemakers widely employ barrel fermentation in NZ; some incorporate a portion of stainless steel to keep the freshness of the fruit, while others use high solids in barrel fermentation to create a fuller and reductive expression. Most are aged in seasoned barrels with a small portion of new oak in different sizes; most common are 228L barriques, 500L puncheons and 3,000L cuvees; other ageing vessels can also be found, such as concrete eggs and amphoras. Full or partial malolactic fermentation is a common practice to balance the natural fresh acidity, and ageing on lees to gain a creamy mouthfeel is widely appreciated by winemakers and consumers.
Without further ado, here is my selection of Top 10 Chardonnay.
No. 10
Auntsfield Single Vineyard Chardonnay 2020, Marlborough https://auntsfield.co.nz/
Marlborough's first vineyard and winery were established in 1873. This Single Vineyard Chardonnay is planted on ancient Greywacke rock and loess clay soils. The business is managed by two Cowley brothers, Ben & Luc.
No. 9
Carrick Organic Chardonnay 2020, Central Otago https://www.carrick.co.nz/
This organic producer (certified since 2008) is based on Cairnmuir Road in the Bannockburn sub-region of Central Otago. 2020 was the first vintage that chief Winemaker Rosie Menzies was solely in charge since the departure of Francis Hutt.
No. 5 to 8
Alexia Happy Wife Chardonnay 2020, Hawke's Bay https://www.alexia.co.nz/
A Wairarapa producer operates in their Urban Winery in Greytown; the fruit for this wine was sourced from Hawke's Bay. The fourth release of this wine, Winemaker Jane Cooper, believes it's the best yet; her less is more winemaking allows the fruit to do the talking.
B.wine Lime Hill Vineyard Chardonnay 2020, Wairarapa https://bwine.co.nz/
Previously Lime Hill Vineyard was rebranded as B.wine. The 1.3-hectare block east of Masterton possesses soils identical to Burgundy; the north-west facing vineyard was planted in 2013, on limestone with a thin layer of clay top soils, following organic precipice. Their 2019 Lime Hill Chardonnay was also in last year's Top 10 Chardonnay. Owners, winemaker and viticulturists Raphael & Christine Burki also run a cellar door in Martinborough.
Collaboration Wines Aurulent Chardonnay 2021, Hawke's Bay https://collaborationwines.co.nz/
Winemaker & proprietor Julianne Brogden collaborates with a handful of delicate winegrowers in Hawke's Bay to create fine wines that reflect their origin. Her minimal intervention winemaking approach ensures limited use of SO2, natural use of oxygen at pertinent stages, no fining agents and minimal or no filtration.
Pegasus Bay Reserve Virtuoso Chardonnay 2019, North Canterbury https://www.pegasusbay.com/
Pegasus Bay is one of the most well-known wineries in Canterbury and New Zealand. The Donaldson family have been in the wine industry since the 1970s, proudly family owned and operated by four sons. Virtuoso Chardonnay is only produced in exceptional vintages, selected from the best barrels made from the oldest undrafted vines in the vineyard.
No. 3 & 4
Radburnd Chardonnay 2020, Hawke's Bay https://radburndcellars.co.nz/
Kate Radburnd is one of New Zealand's most highly respected winemakers, with over 35 years of experience in the industry. Radsburnd Cellars was established in 2017, producing only a single-tier wine, only her very best from each vintage without compromise.
Trinity Hill 125 Gimblett Chardonnay 2020, Hawke's Bay https://trinityhill.com/
An iconic New Zealand winery best known for its Homage. The 125 Gimblett Chardonnay is a relatively new wine range from a single vineyard on the Gimblett Gravels; the first vintage was released in 2018, showcasing small parcels that express a sense of place. Warren Gibson has been their chief winemaker since 1997.
No. 1 & 2
Domain Road Defiance Chardonnay 2020, Central Otago https://www.domainroad.co.nz/
Defiance Vineyard is situated on Felton Road in the Bannockburn sub-region of Central Otago; the 7.5 hectares block is planted on loam soils overlaying schist gravels laid down some 450,000 years ago by glaciation. Graeme and Gillian Crosbie purchased the vineyard and planted vines in 2002, and they have a careful and considered hands-on care winemaking philosophy.
Tony Bish Golden Egg Chardonnay 2021, Hawke's Bay https://tonybishwines.co.nz/
The Chardonista Tony Bish focuses on producing a range of five artisan Chardonnay in Ahuriri, Napier, in his Urban Winery, using Hawke's Bay fruit. Golden Egg was first released in 2018, made and aged in NZ-made concrete eggs. Tony Bish's Skeetfield 2019 was in last year's Top 10 Chardonnay and was the only wine ever awarded 20 points out of 20 by me.
Read the full reviews below.
FEATURED WINES IN THIS REVIEW